Learn to negotiate tight spots and master kill shots.

Turning the cue ball loose and watching it zip around the table is exciting. But one of the most important shots in pool is the kill shot, being able to play into tight spaces and prevent the cue ball from moving very far.

Here is a no-rail drill that is great for cue ball control and negotiating those tight spaces. Itís great practice, especially for 8-ball, straight pool and one-pocket. This drill requires trust in your touch and your ability to pinch the pockets. Itís also very good for little draw shots, flicking the ball with a little side and rolling the ball in. This is all about keeping close control of the cue ball, not traveling around the table. I use this drill all the time with my students. They often quit on the shot or are too heavy handed. That makes pattern play difficult.

The No Rail Box Drill isnít easy. Planning is required and, like most games, you need to stay three balls ahead in planning your shot selection. Like 8-ball, when I get to the last six or so balls, I start planning backwards from the last ball. My students sometimes get stuck towards the end because they donít look ahead. This drill forces you to think all the time and maintain total focus and concentration.

The rules for this drill are simple and itís easy to set up. Just follow the setup in the diagram.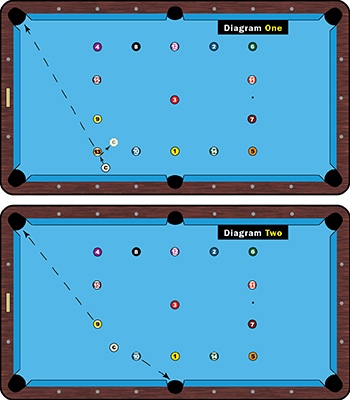 Like all drills, the cue ball canít contact any other ball, and canít contact a rail. Start with cue ball in hand and shoot the balls in any order.

Iíll give you a head start by showing you my opening shot selection. Starting here takes a tricky ball out of the equation and gives me an option for my second shot ó taking the next ball either into the corner pocket (9 ball) or into the side pocket (10 ball). While you have to plan at least three balls ahead, the beauty of this drill is that it constantly offers you options. In that way, itís a lot like straight pool.

On a lot of shots in this drill, the side pocket, is a good option because the wider opening allows you to cheat the pocket ó aiming the object ball to enter one side of the pocket or the other. That gives you the ability to create less or more angle on the shot, which, in turn, determines differing paths for the cue ball. In the case of this drill, creating less angle would be preferable because that will allow you to kill the cue ball. Donít be afraid of trying this method. It will get you out of a lot of tough spots in all games.

This isnít an easy drill but itís not overly difficult if youíre focused and thinking through every shot. It is a good challenge. And like all challenges, see how far you can get and keep working to improve your score.

And the more you practice this and the better you get, the more tight spots youíll be able to negotiate in actual match play.