BD House Pro
Tony Robles
A longtime teaching pro at Amsterdam Billiard Club in New York City, Tony has dozens of regional and national titles to his name, including the 2004 BCA Open Championships.
Instruction Articles:
Trying the Soft Break
January 2008
The big controversy this year at the World Pool Championship was the widespread use of the soft break, which on the main TV table (and some of the others) was always sinking a wing ball in the corner and sometimes the 1 ball in the side. Personally, I feel the soft break has destroyed 9-ball. It's like every batter in a baseball game stepping up to the plate and bunting. However, your opponent might use it on you, so you have to have it in your arsenal.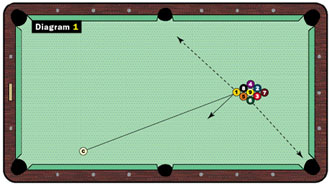 If you can break from anywhere behind the headstring, choose one of the sides and take dead aim on the 1 ball. Use a soft stroke - stop-shot speed, or about three times the speed of your lag stroke - and apply some backspin. Depending on the side from which you're breaking, the wing ball on that side more than likely will go in that corner pocket (see Diagram 1). In addition, the 1 ball will wander toward the opposite side pocket. Depending on your speed, the cue ball should back up a few inches, giving you a clear shot on the 1 ball in the side if it didn't already drop.

If you must break from the box, try a cut break, aiming for the spot on the ball that you would have contacted had you been breaking from the side. Try a two-third to three-quarter hit. Also use some bottom left or right English on your break stroke - left if breaking from the left, and right if breaking from the right. This will bring the cue ball off the long rail and back up table for a possible shot on the 1 ball.

A couple disclaimers: The rack needs to be pretty tight to make this work, and the 1 ball should be on the spot.