While speed may be the most important factor to controlling the cue ball, knowing how the cue ball will react off a rail will go a long way to maximizing the impact of that speed control.

If the path of your cue ball takes it into a rail, youíd do well to know how that ball is going to react after contact, based on both speed and any English that the cue ball is carrying.

One easy way to get a feel for shots in which you want to control the cue ball off a rail is with safety shots like ones in the diagram. The position of the balls makes it obvious that your best shot is to hide the cue ball behind the 4 and 6. The cue ball, 2 ball and 4-6 are all close enough so that speed should not be hard to pin down. But the angle off of the 2 ball is something that you will want to plot in order to get the cue ball in a lock-down spot.

Left English on the cue ball will help it find safe haven, but you will need to experiment with the effects of less and more English. As for speed, just enough speed to reach the bottom rail should be sufficient. You donít want to bump the 4 and 6. And remember, running English on the cue ball will result in it picking up speed off the rail, so adjust your power accordingly.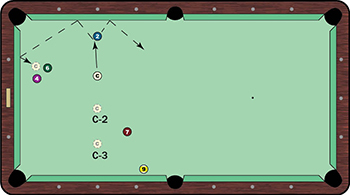 Once you get a feel for how the varying degrees of English change the cue ballís path, start adjusting the fullness of your hit on the 2 ball. Varying the combinations of fullness and English will give you great information on how to play similar shots.
Practice the shot from the first cue ball position until youíve got a good feel for the variables. Once youíve mastered that distance, move the cue ball further away from the 2 ball, to positions C-2 and C-3. Notice how the added distance complicates the shot.
Try the same drill at the other end of the table so that you can get the same feel for using right English.
In addition to helping you with your safety play, this drill will help you with general position play as well.