BD House Pro
Tony Robles
A longtime teaching pro at Amsterdam Billiard Club in New York City, Tony has dozens of regional and national titles to his name, including the 2004 BCA Open Championships.
Instruction Articles:
Incremental Growth
February 2023
Several months ago, we worked on shots with the cue ball pinned to a rail. There were simple drills for shooting off the rail and the primary objective was for you to gain some level of comfort when faced with these shots.

Establishing a comfort level with a variety of testy shots is one of the keys to consistent pool. Nerves are a big part of every game and maintaining confidence that you can handle whatever situation arises is critical.

All of the lessons we discuss are geared to making you a better player. Everyone who picks up a cue wants their game to improve. And what you learn is that improvement takes time. Like all sports, becoming a great player is about incremental growth. You canít rush the process. You start by tossing three balls on the table and trying to run out. Then you add a fourth ball. Then a fifth, and so on.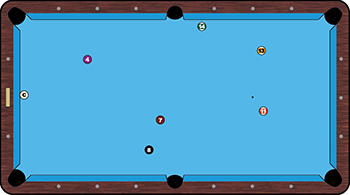 One of the most important aspects of your growth, as Iíve already pointed out, is your willingness to recognize your weaknesses and shots that make you uncomfortable and putting forth the effort to turn those weaknesses and that trepidation into strengths and confidence.

Taking all that into consideration, letís build off the rail shots youíve been working on for the past three months. Once youíve worked on consistently making the short shots from the rail in the previous drill, letís try the drill shown in the diagram. In this drill, the cue ball is frozen at the middle of the bottom rail. Throw a handful of balls randomly out on the table. Try to pocket the balls into one of the top corner pockets from that spot along the bottom rail. It wonít take long for you to realize how difficult this drill is relative to the drill you practiced before.

In fact, you may find this too difficult at the start. But that is the point. Improvement is incremental. Start with something manageable and work your way into more difficult versions of the same principle. Keep working on this drill until the comfort level begins to increase. You will soon realize, just as was the case in the previous drill, that shots that once made you uncomfortable are now part of your game.