BD House Pro
Tony Robles
A longtime teaching pro at Amsterdam Billiard Club in New York City, Tony has dozens of regional and national titles to his name, including the 2004 BCA Open Championships.
Instruction Articles:
Hangers
March 2019
Perhaps the the most deceiving — and sometimes trickiest — leave in pool is when an object ball is hanging in the jaws of a corner pocket. If only it was as easy as it looks! Most top players will tell you that, if they had their druthers, they'd rather have the object ball six inches to a foot away from the pocket than sitting on the edge. With more room, you get a clearer view of exactly where you need to hit the object ball to pocket it. That focus helps in seeing the path the cue ball will take after contact. When the ball is hanging int he pocket, however, and just about any spot on the object ball will be enough to get it into the pocket, your options multipy. And with those extra options come various cue ball paths after contact. It is always best to have one exact contact point, on which to train all of your attention.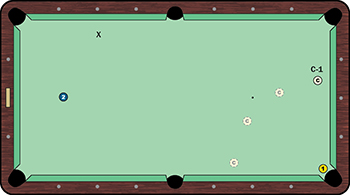 I have spent a lot of time working on playing position off of a ball hanging in the pocket. I visually dissect the object ball into fractions and I practice hitting a certain fraction of the ball (ranging from 1/8-ball to a full ball hit). Doing this has allowed me to get a better idea of how the cue ball path changes from one hit to the next. Here is a drill that will give you an idea of how different contact points on the object ball affect the cue ball's path. Start with the cue ball at position C-1 and hit the cue ball with center, pocketing the 1 ball and sending the cue ball to position X. Use the same cue ball contact for each shot, which will give you plenty of feedback. I suggest starting with a simple center ball hit on the cue ball. Vary your contact point on the 1 ball until you are consistently sending the cue ball to position X. Once you have achieved some consistency, move the cue ball to the other areas shown in the diagram and start over. You will quickly learn how the contact point on the 1 ball is very important.