BD House Pro
Tony Robles
A longtime teaching pro at Amsterdam Billiard Club in New York City, Tony has dozens of regional and national titles to his name, including the 2004 BCA Open Championships.
Instruction Articles:
English Class
July 2023
All beginning players canít wait to start using English. I tell all my students that they have to learn all shots progressively, where the same shot from a foot away and two feet away and six feet away can be made consistently. And that is all with center ball.

For me, the fastest way to get them to appreciate mastering center ball is by teaching them what deflection is. At that point, their eyes usually pop open and they tell me theyíll just stick with center ball.

And because every shaft is different, I tell beginners that they will never know how or how much to compensate with their aim using English if they havenít mastered center ball.

Once theyíve mastered center ball, they need to understand how much deflection their shaft has. If they aim at a spot on the rail and hit it with center ball, the difference in where that cue ball will hit the rail when they apply left English could be as much as two balls-width, depending on speed. So, when they miss a shot using English, they can miss by as much as two balls.

I never tell students that, though. I let them find out for themselves by starting to apply spins. Then they freak out.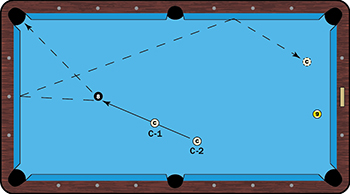 One of the keys with deflection from applied English is that speed matters. The softer I hit the shot, the less deflection. Your aim is going to be affected by the speed.

Medium speed is the best speed to use. With todayís low-deflection shafts, you donít have to allow for too much variance. Additionally, one of the things I do is shorten my stroke as the shot gets longer. I want to maintain that medium speed, and a longer stroke will add unwanted speed to the shot. My aiming point doesnít change.

Check out the shot in the diagram. The cue ball (C-1) is about two feet away. The second cue ball (C-2) is about three feet away. Shoot these two shots over and over using center ball until you canít miss. Then, using right-hand English and medium speed, shoot this shot again to get a better understanding of the deflection involved. You will really start to understand how deflection works.