Sometimes, the slightly harder shot produces decidedly better results.

These types of strategic decisions come up all the time in pool, particularly when it comes to position play. There are often several ways to get position for the next shot. Your decision-making on which route to take is something that takes time and thought.

Take a look at the shot in the diagram. The shaded area indicates the optimal area for position on the 8 ball following your shot on the 7 ball. This position area on the 8, of course, will leave you the proper angle to easily gain position on the game-winning 9 ball.

A lot of players, particularly amateurs and mid-level players, will opt to send the cue ball along its natural path, two rails and into the shaded area. This shot requires low left English on the cue ball. The problem, of course, is that this shot is heavily dependent on your cue ball speed. And if youíre even just a little heavy or a little light, you will not be in the shaded area. Thatís the risk inherent in traveling across the optimum line for the next shot instead of playing along the line.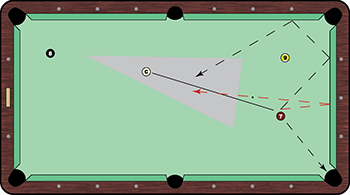 A better option is the use a half-tip of high right English and simply bring the cue ball off the end rail and into the shaded area (red dotted line). Here, regardless of whether your cue ball speed is a little heavy or a little light, the cue ball is still traveling along the optimal shot line for the 8 ball.
Always be aware of your preferred landing area and try to deliver the cue ball along the line with your next shot instead of across the line. The margin for error is much better.
Of course, some players will eschew this shot because they arenít comfortable using inside English. But the benefits are much better. Practice taking this route so that it will not intimidate you when it comes up, which it will more often than you think.
Remember, if you sometimes take the slightly tougher shot, it will make your run-out a lot easier.