BD House Pro
Tony Robles
A longtime teaching pro at Amsterdam Billiard Club in New York City, Tony has dozens of regional and national titles to his name, including the 2004 BCA Open Championships.
Instruction Articles:
Two-Way Shots
May 2015
Let's talk about two-way shots. I use the ghost ball method to teach the 90-degree principle and caroms. Let's say we're in the middle of a rack in 9-ball. With this two-way shot you can potentially make the 5 ball and have position on the 6. If you miss the 5, you're still safe behind the 9 ball. You just hope that if you don't make the 5, it doesn't hang in the pocket.When I first started practicing these shots, I used to place an object ball as the ghost ball so I could see how much of the 8 ball I needed to hit to get that 90-degree angle to the pocket.

How do you see shots like this? I have a progression of questions that I ask myself when faced with a shot. The first thing I ask myself is if I can pocket the object ball directly. In this case the answer is no. The 7 ball and the 9 ball are preventing me from pocketing the 5 in the corner. Second, can I kick? The answer is no. The cue ball is too far from the object ball. I would have to be too accurate, so the percentage of success is very low. Number three, can I hit my object ball off another object ball? The answer here is yes. Four, will I have a shot at the next object ball if I pocket the 5? In this case, the 6 is sitting in the side pocket, so it is very makeable. And, finally, can I leave my opponent safe if the object ball doesn't go? Yes, because I can stop the cue ball behind the 9. Now, if the 6 ball was up on the top rail and didn't offer me a good next shot, it wouldn't make any sense to pocket the 5. I would play the carom off the 8 at a different angle so that the 5 didn't go into the pocket, but rather stayed down on the bottom rail for a safe.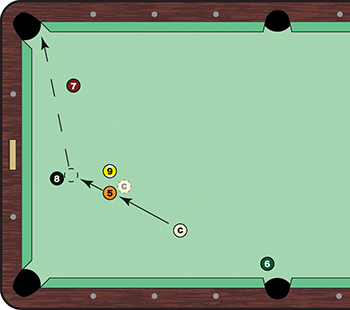 As players get used to asking themselves these questions, it will help them see the table and the opportunities better.