BD House Pro
Tony Robles
A longtime teaching pro at Amsterdam Billiard Club in New York City, Tony has dozens of regional and national titles to his name, including the 2004 BCA Open Championships.
Instruction Articles:
Win from Your Chair
October 2007
You might think you're powerless once you miss a ball and have to sit down, but you can win a match from your chair. If you believe in your ability to win, it doesn't matter what your opponent does. If you can stay calm and focused, you'll be ready to win.

By the same token, you can beat yourself in your chair. I see players punish themselves for their mistakes, creating a negative mindset that feeds on itself. Then they get anxious waiting for their opponent to make a mistake, instead of staying calm and focused.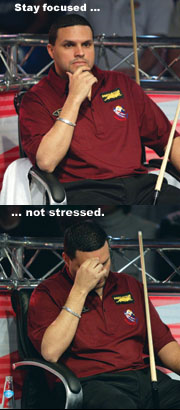 Here's my routine for staying in the match, even from 10 feet away:

When I miss, the first thing I do is accept the fact that I screwed up and make up my mind to move on. Lots of guys will miss a match-winning shot and get angry with themselves. And if they get the table back, they'll miss again. If you are blinded by rage, you most likely will go with the first option that you see instead of taking your time to see what all the options are.

I mentally run over my list of fundamentals. Am I setting up correctly? Am I staying down on the shot? Are my backstroke and stroke acceleration smooth? This is constructive thinking, and it helps keep out negative thoughts. And if I can diagnose my miss, I feel better and more prepared for my next trip to the table.

I stay calm and keep focused on the table. If my opponent makes a great shot, I think, "OK, good for you, but wait and see what I can do when I get to the table." You know how much that energizes a person?

I ask myself two questions: 1) How bad do I want to win?; and 2) Do I want to win badly enough that I will do whatever it takes? If the answer is "Yes," then I know that I am ready to play.