BD House Pro
Tony Robles
A longtime teaching pro at Amsterdam Billiard Club in New York City, Tony has dozens of regional and national titles to his name, including the 2004 BCA Open Championships.
Instruction Articles:
Safety First?
May 2023
The instructional feature in this issue is devoted to safety play, which is such an important tool to have in your arsenal.

I was part of that article and offered some thoughts, but I want to delve into safety play a little deeper here. I talk about safety play a lot, and I tell my students that learning to know when to shoot and when to play safe is a process. It takes time and experience to know which route you should take on particular shots. Sometimes the object ball is simply not makeable, so you really donít have a choice. Other times, however, the object ball can be made but there are risks involved. Thatís when you have to be honest with yourself. And I mean completely honest. There are two questions that you need to ask yourself. First, how many times in 100 tries would you figure to successfully pocket the object ball? Second, once youíve looked at the best safety option, how many times in 100 are you likely to prevent your opponent from having an easy escape? If the percentage of a successful safety is higher than my honest assessment of my pocketing percentage, Iím always going to opt for the safety.

For example, if Iím faced with a difficult cut shot or a bank shot that I figure I can make half the time, but there is an available safety that Iím about an 80 percent favorite to leave my opponent kicking, Iím going to go for the safety. My plan is to get back to the table in better shape.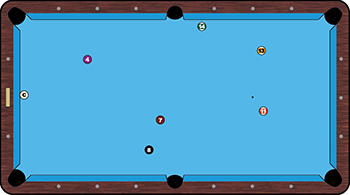 That said, there is inherent value in staying at the table. No matter how good your safety, there is a chance your opponent may make the shot or leave you in worse shape on your next trip to the table. Sometimes you simply have to go for the shot. Iíve always cautioned students that your opponentís next time at the table can always result in your losing the game.

My rule is that the percentages of making the shot need to be at least 60-70 to even consider shooting. If that percentage rises to 80-85 percent, I feel like I have to go for the shot.

Consider the shot in the diagram. What are the chances of you banking the 6 cross side to get shape on the 7? Is that percentage higher than hitting the 6 thin and sending the cue ball in behind the 8? You know your game better than anyone. Be honest with yourself and then make your decision. Once your decision is made, shoot it with 100 percent confidence.