BD House Pro
Tony Robles
A longtime teaching pro at Amsterdam Billiard Club in New York City, Tony has dozens of regional and national titles to his name, including the 2004 BCA Open Championships.
Instruction Articles:
Not As Easy As It Looks
June 2021
It is the topic of a lot of discussion when it comes to pool for good reason: Shooting at an object ball that is sitting in the jaws of a pocket looks incredibly easy, and it is, if the object ball is the last ball on the table. But that same ball becomes a lot more difficult if you have to play position for another ball at the other end of the table.

ďHangers,Ē as dangling object balls are often called, are tricky when playing shape for another ball. And Iíve seen many players completely flummoxed by how to maneuver the cue ball on these shots. In fact, Iíve often admitted that Iíd rather have the object ball a foot away from the pocket than sitting in its jaws. With distance, you have a much better sense of where you need to hit the object ball to make the shot. You are limited to one contact point, which, in turn, allows you to focus on the cue ballís path after the shot.

Conversely, when the ball is sitting in the pocket, you have to choose where on the object ball you want to hit to get the cue ball moving in the desired direction for the next shot.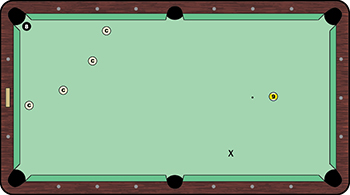 So, for starters, get used to trying to select a pinpoint spot on the object ball every time you shoot at a hanger. I used to do this in practice by mentally cutting the object ball into pieces. I practiced hitting a certain fraction of the ball, going from 1/8 ball to full ball hits. That helped me see how different the cue ballís path was from each hit.

Here is a simple drill to help you get a feel for playing position off a hanger. Play the 8 ball from each cue ball position, each time trying to send the cue ball to position X for shape on the 9 ball. Donít move on to the next cue ball position until you have mastered the pattern from the previous position.

What you will quickly learn is that you wonít achieve consistent success unless you change the contact point on the 8 from shot to shot.

One key point is to use the same spin on the cue ball with every shot, changing only the fraction of the object ball youíre pinpointing for contact. At the start, keep it simple by using only center cue ball.