BD House Pro
Tony Robles
A longtime teaching pro at Amsterdam Billiard Club in New York City, Tony has dozens of regional and national titles to his name, including the 2004 BCA Open Championships.
Instruction Articles:
Coming Back From Injury
November 2023
I recently developed tendonitis in my elbow, and it was really bad this time. Lots of pool players end up on the shelf for periods of time from ailments like tendonitis, neck pain, shoulder pain, etc. Years of repetitive movements and straining like we do playing pool can cause things to flare up.

I had tennis elbow some years ago. Like most pool players, I was impatient and anxious to get back to the table. I rushed my recovery and it made everything take longer to get back all the way. This time when my doctor told me not to hit a ball for a month, I listened. I even struggled just lifting my cue off the table, and it only weighs 17.5 ounces.

And even after a month, I went and hit one medium-hard draw shot and it felt like my elbow was going to fall off. You have to listen to your body. So, I waited another three weeks before I hit some balls. This time it didnít start hurting until the third or fourth rack, so I knew I was making progress. Mind you, I wasnít really practicing. I was just hitting balls to feel the reaction in my arm.

My point is that you need to be smart about recovery and getting back into action.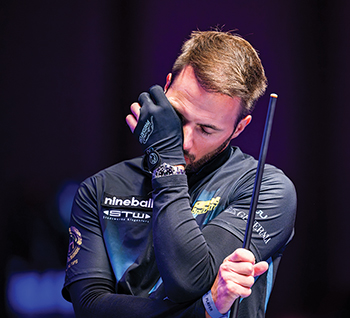 You have to be patient. And be compliant with what your doctor prescribes in terms of therapy and exercises. Itís so easy to make the situation worse.

When you get back to the table you have to have a plan. You canít just rack the balls, break and try to run out. You really have to ease into it.

After my first bout with tendonitis, I came up with a drill where I shot balls with the caveat that the object ball is not allowed to hit the back of the pocket. This challenge will force you to shoot very soft. After a while I started hitting with medium speed, and always using ball in hand. Donít try to fire in shots or use a power draw. It takes time to get your arm loosened up again. Eventually you start adding power as you go along without pain. Breaking the balls should be the last thing you do. If you feel any pain at all, quit breaking for a while and build back up to it. That goes for any shot. If you feel discomfort, just stop. Remember the power level that caused the pain and avoid hitting with that power for another week or two.

Stick to soft follow shots and stop shots. Nothing fancy. Iím not trying to run out.

It may take time, but it will be worth it. And, trust me, youíll know when youíre pain free. In the meantime, be patient.