Practice is always more enjoyable if you can make a game of it. Take the break shot, for instance. I've seen many players rack and re-rack the balls, smashing them time after time and simply looking to see if a ball was pocketed. Of course, making a ball on the break is important, but it is not the only sign of a successful — or unsuccessful — break.

First, though, let's build up to our game-within-a-game by doing a few break drills. Accuracy with your break shot is every bit as important as power, so let's start with a simple stop shot. With the 1 ball on the spot, work on hitting the center of the 1 with the center of the cue ball. Try to consistently hit a stop shot. The kicker is that you can only move your arm! No throwing your whole body into the break.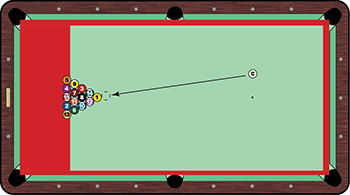 If you've never tried this, trust me, it is not easy. Learning to control the cue ball first will allow you to add power later. The key is to get the cue ball to sit in the middle of the table, which allows you the greatest access to the balls after they come to rest.
Once you've gotten the arm-only approach to work with consistency, start adding some body movement. Study your follow through. When you were using only your arm, the follow though was only a few inches. Using your body, however, will allow you to follow through farther, generating more power.
The key, of course, is to incorporate body movement (power), while still placing a premium on an accurate, controlled stroke. Only add more body movement if you are consistently hitting the center of the 1 ball with the center of the cue ball.
Now, make it a game. Every time the cue ball hits a rail, rolls forward or scratches (the red zones in the diagram), your "opponent" gets a point. Can you win a race to 10 doing this? If you can, you are on your way to a powerful and accurate break.