BD House Pro
Tony Robles
A longtime teaching pro at Amsterdam Billiard Club in New York City, Tony has dozens of regional and national titles to his name, including the 2004 BCA Open Championships.
Instruction Articles:
Uncomfortable? Good
March 2021
One shot I rarely see players practice, particularly developing players, is shooting when the cue ball is frozen to the rail. Believe me, I know why players donít practice this shot. Itís uncomfortable. Itís difficult. It can be humbling.

But that is the exact reason you should practice these shots. Besides, the cue ball tends to nestle itself up against the cushion far more often than we would like.

Of course, the easiest way to practice is to simply set up a shot and keep shooting it until you feel comfortable. But letís try a practice regimen that focuses on your approach to the game as a whole.

Again, the key to success at the table is to be comfortable in any situation that may arise. In a competitive environment, nerves come into play and you donít need the added stress of not feeling confident in the shot you face.

Do shots off the rail make you uncomfortable? Are you confident when one of these shots comes up? Some players tend to try to avoid their weaknesses and simply hope that those weaknesses are not exposed at critical points in a game.

Letís turn the tables and spend the necessary time improving on your weaknesses.

Here is a drill that will test your ability to shoot off the rail. Trust me, this will be humbling at the start. Itís a difficult drill and youíre not going to like some of the shots youíll be faced with.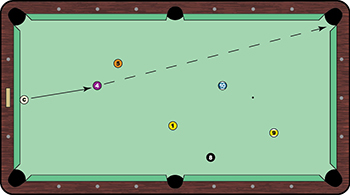 In the diagram, the cue ball is frozen to the middle of the bottom rail. Randomly throw a few balls on the table and try to sink each one into one of the far corner pockets from that same cue ball position. It wonít take long for you to realize how difficult these shots are and why you need to practice them. Donít get frustrated. Set goals for incremental improvement. With focus and determination, you will eventually be able to handle this drill with a good percentage of success.

At that point, you will see that something that made you uncomfortable is now a strong part of your game.