BD House Pro
Tony Robles
A longtime teaching pro at Amsterdam Billiard Club in New York City, Tony has dozens of regional and national titles to his name, including the 2004 BCA Open Championships.
Instruction Articles:
Q&A: Ask the Pro
August 2008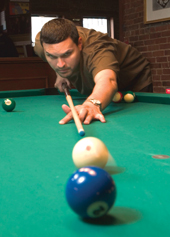 "Practice Strokes: At least three."

The House Pro mailbox has been filling up, and we've noticed some common questions among beginning and intermediate players. Here's my take on some of these fundamental issues.

Should my tip shape be like the arc of a dime or nickel?

I feel more comfortable with the dime shape. My tip has a tendency to mushroom quickly, so I figure that it will last a lot longer going from a dime to a nickel before it goes flat. Also, if you have a flat tip, you're more likely to miscue by hitting the cue ball with the edge of the tip. With the curvature of a dime, you get the meat of the tip on the cue ball, and I feel that gives you better action.

How many practice strokes should I take?

I like to take at least three to five. When the object ball is farther away, I'll take seven or eight to give myself extra time to really focus on a specific target on the object ball. But you should always take at least three, to give yourself enough time to focus on the specific target point.

I feel like I've hit a plateau. How do I even know what skills I should work on?

Start practicing banks, kicks, safeties and position shots, and chart your progress. Shoot particular shots 10 times each and note how often you're successful. You'll get a good idea from your results which skill needs the most work. And continue to chart your results as you practice - at least once a week - to quantify and better understand your improvement.

If I play someone who I know is better than I am, how should I adjust my game?

No matter what you do, you should always play your game, no matter what anyone says, whether they say you're shooting too slow, or you're not shooting the right shot, or what have you. Take the shot you are comfortable with, while making sure you take notes on your mistakes so you can go back later and practice those situations. Plus, you get a better sense of what your strengths really are if you play within yourself. It's OK to respect your opponent, but once you respect your opponent more than you respect yourself as a player, you have already beaten yourself.