BD House Pro
Tony Robles
A longtime teaching pro at Amsterdam Billiard Club in New York City, Tony has dozens of regional and national titles to his name, including the 2004 BCA Open Championships.
Instruction Articles:
Jumping In Line
December 2011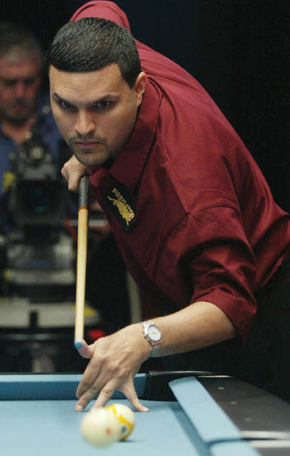 THERE'S NO doubt that the jump stroke — like the soft break, which we covered last month — has become an essential part of the modern game. Jumping the cue ball over blockers and pocketing an object ball can be really exciting. It can also be intimidating for players who are not familiar with the intricacies of taking the cue ball airborne.

In that regard, many fears result from a lack of understanding. While there certainly are differences between a jump and normal stroke, you can keep a number of this consistent when you jack up your cue and strike down on the cue ball.
Stance: You want to remain centered over your cue. In order to do this, considering the butt of your cue will be elevated, bend your bridge arm and lean your upper body forward, putting more weight on your front foot. This will help you maximize balance and "normalize" the stance.
Back Arm: Like during a normal stroke, you want your back arm to form a 90 degree angle, with your forearm nearly perpendicular to your cue. Additionally, as you can see in the photo, your wrist, forearm, upper arm and shoulder should all be lined up with your cue.
Aiming: It's no more complicated than a normal shot. You want to find an exact contact point on the object ball. You can then focus on where to hit the cue ball to send it to that point of contact. Ideally, plan for the cue ball to impact the object ball and the table at the same time. This increases your control of the cue ball, since a bouncing cue ball can be wildly unpredictable.
Stroke: Keep still. Like a normal stroke, you want to keep your head and torso steady as your deliver the cue to cue ball.
Far from an exhaustive list, these points are a staring point for practice, and hopefully should at least get you started toward conquering your fear of jump shots.