BD House Pro
Tony Robles
A longtime teaching pro at Amsterdam Billiard Club in New York City, Tony has dozens of regional and national titles to his name, including the 2004 BCA Open Championships.
Instruction Articles:
Speed Kills
April 2021
One of the problems I see most often with students is their struggles with cue ball speed. This is particularly noticeable on thin cut shots.

When youíre cutting the object ball thin, the cue ball will retain most of its speed. Thatís why speed is so critical on thin cuts. It is very easy to hit the shot too hard and send the cue ball flying around the table.

A lot of players struggle with this because they are trying to stop the cue ball in very specific spots on the table, but they donít really have a frame of reference to guide them.

Thatís why the drill Iím sharing here is so valuable. It is a simple way to begin to understand speed control. It will allow you to really develop that frame of reference, which, in turn, will remind you exactly how much speed to use almost every time in the future.

The goal here is to gain a feel for how much speed to use to get the cue ball to go stop at both long rails. Of course, the first thing you must do is pocket the 8 ball in the corner pocket. Your hit on the cue ball and how the 8 is pocketed is also vitally important.

To learn the most from this drill, you must use a perfect stun shot on these and the 8 ball must go into the center of the pocket. No English.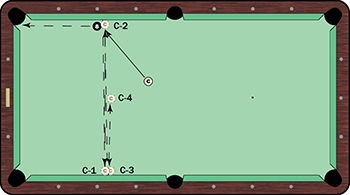 First, pocket the 8 and get the cue ball to slide directly across the table, stopping as close as possible to the opposite rail (C-1). Once youíve mastered that shot, pocket the 8 and get the cue ball to go across the table and back to the rail where the 8 ball was (C-2). Finally, pocket the 8 and get the cue ball to go across the table three times, resting on the opposite long rail (C-3).

Once you familiarize yourself with the speed for those shots, start trying to get the cue ball to go across the table and back, stopping in the center of the table (C-4). Next, send the cue ball across the table twice and to the center of the table.

Trust me, once you really understand the speed required for these shots, you will never forget them.

Also, practice this drill on different size tables. The change in table width will affect your desired speed. Again, once you get this down, your brain will automatically adjust for any size table.