BD House Pro
Tony Robles
A longtime teaching pro at Amsterdam Billiard Club in New York City, Tony has dozens of regional and national titles to his name, including the 2004 BCA Open Championships.
Instruction Articles:
Be A Soft Touch
March 2022
One of the most common things I see in beginning and intermediate players is the penchant for overpowering shots. For some reason, these players think that the harder they strike the ball, the straighter it will go.

More likely, these players just lack the confidence to shoot shots at a slower speed and with a softer touch. They arenít used to following through on their shot at a softer speed. In most cases, they are decelerating their cue sticks in mid-stroke to soften the hit. Other players simply poke or jab at the cue ball.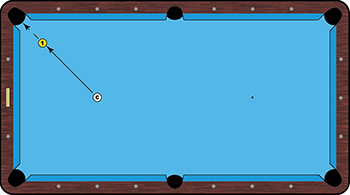 The players that jab at the cue ball canít power a shot because the poking motion doesnít allow for proper follow through. That really limits the amount of power you can transfer to the cue ball. Once a player starts learning how to follow through properly, he/she realizes they can hit the ball softer and get the same amount of speed as they can hitting it harder with a short follow through.

Simple solution: Good follow through allows you to shorten and/or soften your stroke.

I suggest practicing some shots by hitting them with half your usual speed but with a longer follow through. Set up a simple drill, like the one in the diagram. Put the cue ball on the spot and an object ball close to the pocket. Practice shooting that shot at different speeds and with different follow throughs. Hold your cue after the follow through and see how far your cue stick goes past the spot after you strike the cue ball. Start with a straight-in shot. Once youíre comfortable with following through you can set up the shot on an angle to practice position play.

When it comes to follow through, the stroke is complete when the cue stick comes to a natural stop on its own. No one strokes the ball and says, ďIím going to stop exactly five inches past the spot.Ē Let the cue stick come to a natural stop, according to the speed of your stroke. Hold the cue at that point to observe the length of the follow through. Also, if Iím going to hit a shot as softly as possible, Iím only going to bring the cue stick back an inch or two and then go forward from there. Iíll likely have a one- or two-inch follow through once I strike the ball.