BD House Pro
Tony Robles
A longtime teaching pro at Amsterdam Billiard Club in New York City, Tony has dozens of regional and national titles to his name, including the 2004 BCA Open Championships.
Instruction Articles:
Playing Off the Rail
November 2022
Want to see a pool player cringe? Just watch his face as the cue ball rolls closer and closer to a rail, until it comes to rest directly against the cushion.

Beginning players especially become disheartened when this happens, but even seasoned pros express frustration when the cue ball winds up frozen the to rail. For starters, it severely limits your cueing options. You certainly canít apply draw, and applying any kind of English is precarious. Follow through is also problematic. Iíve seen many players miscue on this shot, watching the cue tip skim over the top of the cue ball.

Back when I was practicing 10 and 12 hours a day, I worked on this shot for days on end. I had a practice drill for shooting off the rail and I kept at it until I lost any fear of being faced with these shots.

Set up the shot as shown, with the cue ball frozen to the rail at the first diamond. Place an object ball about a foot away, aimed directly at the corner pocket.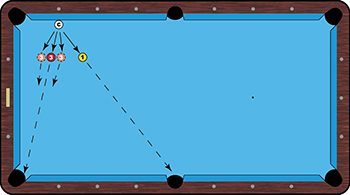 When cueing off the rail, itís important to remember a few things. The rail prevents you from keeping your cue totally level, so you have to strike the cue ball at an angle. Because this seems unnatural and can be uncomfortable, players have a tendency to pull the cue back at one angle and then stroke forward at another angle. You really need to concentrate and focus on keeping your stroke consistent.

Second, never use English when youíre in this spot. Shooting from the rail is difficult enough without trying to impart spin to the cue ball. Just stick to hitting the cue ball on its vertical axis.

Shot the shot in the diagram over and over until you feel like you canít miss. When youíre able to make the shot multiple times in a row, move the object ball slightly to the left, and then to the right. Creating an angle on the shot will allow you to get the feel for angled shots off the rail.

And once you get the hang of the shot into the corner pocket, set up shots from the same cue ball position, but aimed at the side pocket. It adds another degree of difficulty, but youíll be surprised by how quickly youíll get a feel for these shots.