A topic that gets discussed all the time is the soft break in 9-ball. It has been called an effective weapon, and it has also been branded as the worst thing to happen to 9-ball. Since it's appearance on the pool scene more than a decade ago, it has changed the way the game is played. Attempts to ban it or neutralize it have been tried in tons of tournaments.

Since there has been no perfect answer to the soft break, and since it is always possible that your opponent will use it on you, you may as well know what it is about and how to add it to your arsenal.

The effectiveness of the soft break is in the regularity with which it coaxes the wing ball into the corner pocket and/or the 1 ball into the side pocket. When the 1 ball is racked on the spot, this is almost automatic.

So, how do you perfect it?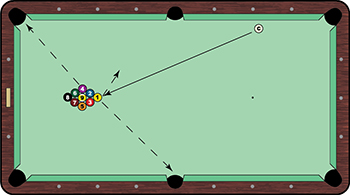 If you can break from anywhere behind the headstring, choose one of the sides and take dead aim on the 1. Use a soft stroke — stop shot speed, or about three times the speed of your lag stroke — and apply some backspin. Depending on the side from which you are breaking, the wing ball on that side will more than likely head straight to the corner pocket. In addition, the 1 ball will move toward the opposite side pocket. If the 1 ball doesn't drop, it will stay near the side pocket. Depending on the speed of your break, the cue ball should back up a few inches, giving you a clear look at the 1.
If you must break from the box, try a cut break, aiming for the spot on the ball that you would have contacted had you been breaking from the side. Try a two-thirds to three-quarter hit. Also, use some bottom left or right English — left if breaking from the left side, and right if breaking from the right. This will bring the cue ball off the long rail and back up table for a possible shot on the 1.