BD House Pro
Tony Robles
A longtime teaching pro at Amsterdam Billiard Club in New York City, Tony has dozens of regional and national titles to his name, including the 2004 BCA Open Championships.
Instruction Articles:
Whereís the Fire?
April 2022
Give an amateur player ball in hand and they are likely to leap to the table, set the cue ball inches away from their first shot and fire it into the hole.

Donít get me wrong. The excitement is understandable. Youíre getting a free shot and can put the cue ball anywhere you want to. But thatís just the point. You can put the cue ball anywhere. When you think about it, there are a lot of options.

And think about it you should! The biggest single mistake players make when taking cue ball in hand is not spending enough time at the table to really think out the best strategy. And that means looking beyond the hanger that youíre about to dispose of first. The most obvious option is often times the wrong choice.

When Iím teaching my students, I force them to take an extra 20-30 seconds before they even place the cue ball on the table. They always seem surprised, but pretty soon they realize there is a lot more to look at.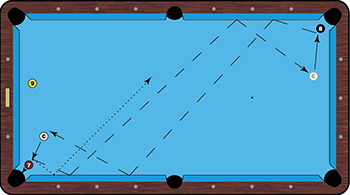 The reason I make them take the extra time is so that they can visualize the probable results of their initial decision. This will save some anguish because most players race ahead and shoot their first option, only to immediately realize that other options might have yielded better results.

Letís take the example in the diagram. There are three balls remaining and you have ball in hand. All three shots are going to require you to send the cue ball to the opposite end of the table. When I ask students what shot they would play, most will opt to make the 7 in the corner and bunt the cue ball to the middle of the table because the 8 is hanging in the diagonal corner pocket (dotted line). Theyíre always surprised when I tell them I see four or five better options. The mistake with their option is that from the center of the table, they will have to contend with the side and corner pockets going from the 8 to the 9.

The proper play here is to send the cue ball two rails and up to the top rail for position on the 8. This way, you can travel safely to two rails going from the 8 to position on the 9. Itís actually better ó and definitely safer ó to go the extra rail for position because it takes the pockets out of play.